01
Enterprise Assessment
This Digital Maturity Assessment Tool enables organisations to self-assess their level of digital maturity. The objective is to gain a picture of your organisation's current level of digital maturity and identify what you're doing well and where improvements can be made.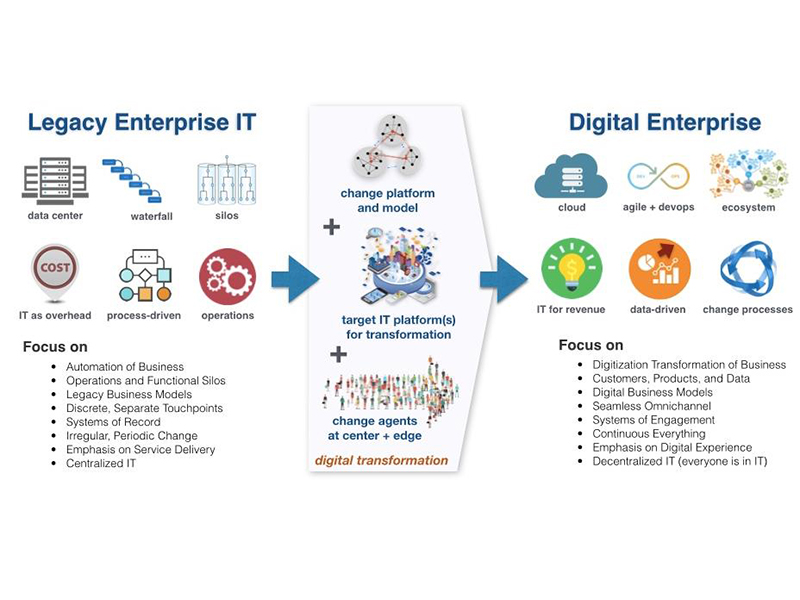 DX01-Template_Governance and Leadership Assessment.doc

DX02-Template_People and Enterprise Culture Assessment.doc

DX03-Template_Capacity and Capability Assessment.doc

DX04-Template_Innovation Assessment.doc

DX05-Template_Technology Assessment.doc

DX06-Template_Digital Transformation Scorecard.

pptx

DX07-Template_Digital_Maturity_Assessment.doc

DX08-Template_Digital Maturity Assessment Tools.xls

DX09-Template_Resource Capability Assessment Worksheet.doc

DX10-Template_Enterprise Strategy Assessment.doc

DX11-Template_Enterprise Demand Survey.doc

DX12-Template_Guidance_Business Executive Interview.doc

DX13-Template_Stakeholder Guidelines and Analysis.doc

DX14-Template_Guidance_Enterprise Strategy and Goals.doc

DX15-Template_SWOT Summary of Main Business Domains.doc

DX16-Template_Final Assessment Report.doc

DX17-Preparing Guide for Digital Transformation.pdf
02
Digital Architecture Design
The Digital Enterprise Architect is responsible for integrating business and IT by creating the Digital EA Map across multiple layers from the Motivation & Strategic Layer to the Business Layer to the Application Layer to the Technology Layer as well as to the Implementation Migration Layer and vice versa, so that the right portfolio of investment projects can be designed and executed by the PMO through IT projects in a way that makes the best use of IT resources and achieves planned business outcomes.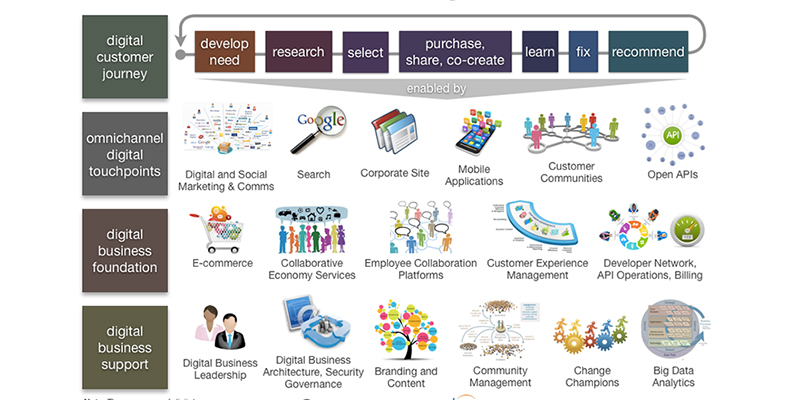 DX01-Digital

Enterprise Architecture

Reference

Model

.pptx

DX02-Design of

Architecture Development Process.pptx

DX03-Design of Business Architecture

Model

.pptx

DX04-Design of Application Architecture

Model

.pptx

DX05-Design of Data and Information Architecture

Model

.pptx

DX06-Designing of Technology Architecture

Model

.pptx

DX07-Design of People and Organization Architecture

Model

.pptx

DX08-Design of Strategic Roadma

p

.pptx

DX09-Design of Digital Transformation Reference Model.pptx

DX10-Enterprise Architecture For Digital Transformation.pptx

DX11-Enterprise Architecture Governance – RACI Chart.pptx
03
Gap Analysis Tools
The aim of the tool is to reduce the risk of undertaking digital transformation projects that are not likely to succeed because they are too difficult to undertake or fail to have real benefits to customers of the organisation. This tool helps you to prioritise the roll-out of any number of potential digital projects by asking you to consider how each one rates against four key categories of criteria: mandatory criteria, benefits, ease of execution, and risk.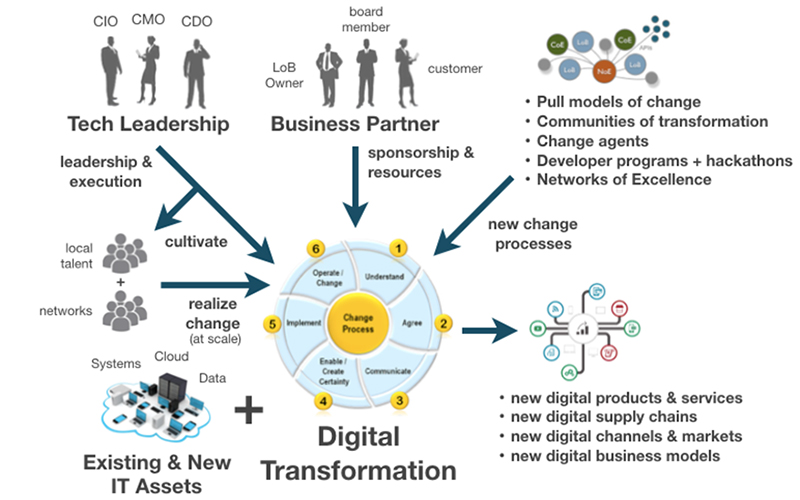 DX01-Template_CANVAS Business Model chart

-

1.doc

DX02-Template_CANVAS Business Model chart

-

2.doc

DX03-Template_CANVAS Business Model chart

-

3.doc

DX04-Template_PESTLE Political Factors Worksheet.docx

DX05-Template_PESTLE Economic Factors Worksheet.docx

DX06-Template_PESTLE Social Factors Worksheet.docx

DX07-Template_PESTLE Technological Factors Worksheet.docx

DX08-Template_PESTLE Legal Factors Worksheet.docx

DX09-Template_PESTLE Environmental Factors Worksheet.docx

DX10-Template_SWOT Analysis Worksheet.docx

DX11-Template_SWOT Inferred Strategy for Digital Transformation.docx

DX12-Template_GAP Analysis Strenghts Worksheet.docx

DX13-Template_GAP Analysis Weaknesses Worksheet.docx

DX14-Template_Digital Transformation – Change Protocol.docx

DX15-Template_Prioritisation Tool Worksheet.xlsx

DX16-Template_Prioritisation Tool Demo Version.xlsx

DX17-Template_Gap Analysis.xls

DX18-Digital Transformation Canvas.pdf

DX19-Digital Transformation Before and After Analysis Grid.pptx

DX20-Digital Tran

s

formation Pallete Worksheet.pdf
04
Digital Technology Selection
While supplier selection and technology selection often go hand in hand, it's important to keep in mind that they are not one and the same. Certainly, whenever capital outlays are involved, choosing the right technology for your business requirements and specific applications is important, but choosing the right supplier to provide that technology and associated support is even more so. Technology is a business tool, but a major supplier is a business partner. The technology user and technology supplier must share a mutual sense of trust and, ideally, a certain degree of commitment to ensuring each other's business continuity.

DX01-Template_Questionaire for Choosing the Right Digital Strategy.doc

DX02-Template_Analyse and Choose Resources.doc

DX03-Template_Digital Transformation Challenges List.doc

DX04-Template_Organizational Resources Review.doc
05
Digital Transformation Strategy Plan
A digital transformation plan is a strategic, long-term plan focusing on integrated digital media channels, implementation of new technologies, and smart, digital ways of working. The template is a guide only and can be amended, expanded and redesigned to suit your organisation. The template is modelled on current strategy documents developed by consulting organisations.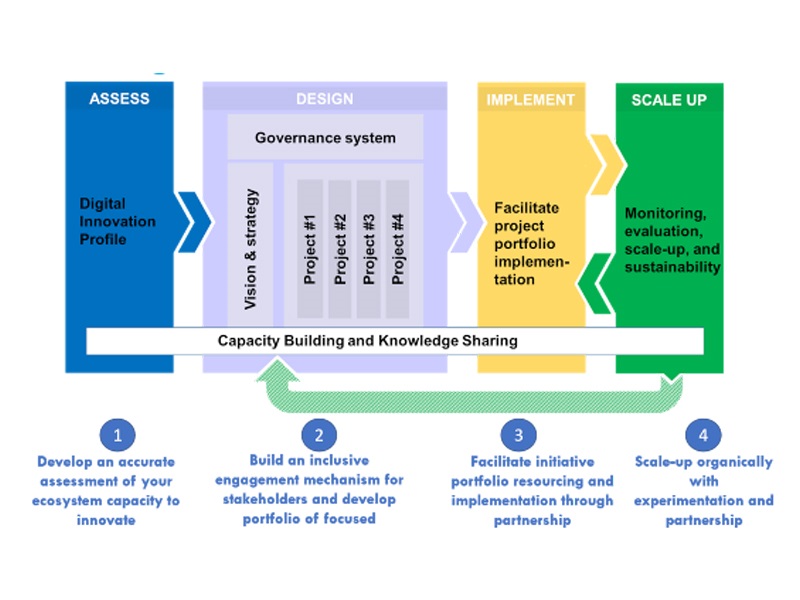 DX01-Template_Digital Strategy.doc

DX02-Template_Digital Transformation Plan.doc

DX03-Template_Digital Transformation Project Prioritisation.xlsx
Template_Digital Strategy for Divisions.doc

DX04-Template_Digital Marketing Strategy Sample.doc

DX05-Template_Digital Strategy For All Department.doc

DX06-Template_Digital Strategy For Organization.doc

DX07-Template_Digital Strategy Implementation Plan.docx

DX08-Template_Digital Transformation Strategy.pptx

DX09-Template_New Technology Monitor.xls

DX10-Template_Digital Strategy Roadmap Sample.doc

DX11-Template_Digital Strategy Roadmap.xls

DX12-Template_Digital Transformation Plan 3 Steps Worksheet.doc

DX13-Template_Financial Review.doc

DX14-Template_Solution Review.doc

DX15-Template_Business Review.doc

DX16-Template_Digital Transformation KPIs.doc

DX17-Case study_Digital Transformation Strategy.doc
06
Plans To Deploy
This tool is designed to help you map out a high-level implementation plan for your digital strategy. The plan encourages you to identify high-level actions and goals related to developing, implementing, and reviewing progress on the rollout of your digital strategy over a two year period. The tool is in Word format so you can change it in whatever way suits your purpose – or simply use it as a guide to create your own tool in another format.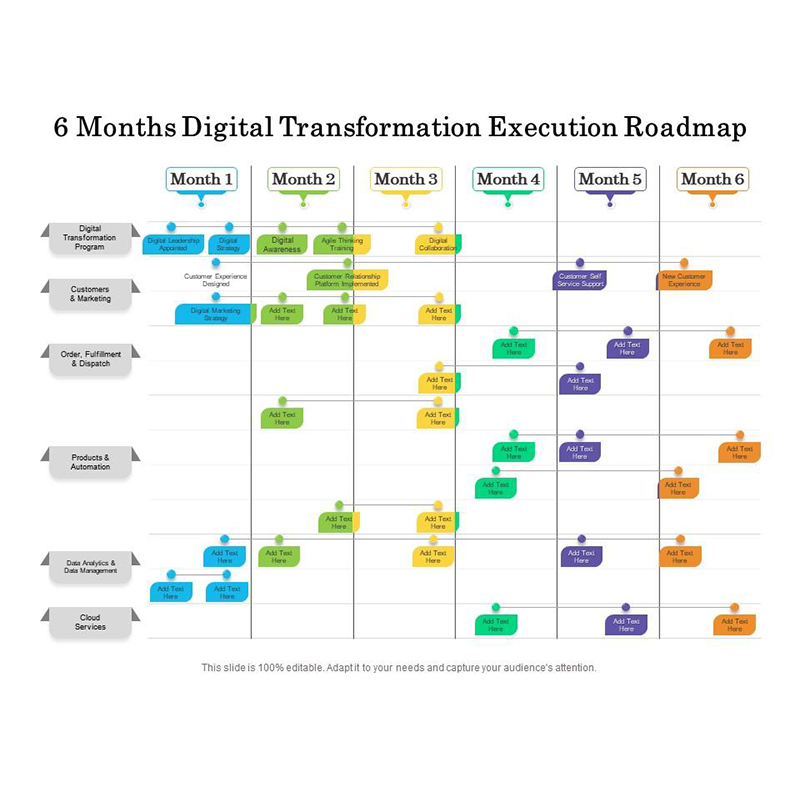 DX01-Template_Project Management Plan.doc

DX02-Template_Scope Management Plan.doc

DX03-Template_Requirements Management Plan.doc

DX04-Template_Team Performance Assessment.doc

DX05-Template_Schedule Management Plan.doc

DX06-Template_Activity List.doc

DX07-Template_Milestone List.doc

DX08-Template_Project Schedule.doc

DX09-Template_Cost Management Plan.doc

DX10-Template_Activity Cost Estimates.doc

DX11-Template_Quality Management Plan.doc

DX12-Template_Quality Metrics.doc

DX13-Template_Responsibility Assignment Matrix.doc

DX14-Template_Human Resource Management Plan.doc

DX15-Template_Communications Management Plan.doc

DX16-Template_Risk Management Plan.doc

DX17-Template_Procurement Management Plan.doc

DX18-Template_Stakeholder Management Plan.doc

DX19-Template_Change Management Plan.doc

DX20-Template_Project Performance Report.doc

DX21-Template_Variance Analysis Reports.doc

DX22-Template_Earned Value Status Report.doc

DX23-Template_Contractor Status Report.doc

DX24-Template_Contract Close-Out.doc

DX25-Template_Project Close-Out.doc

DX26-Template_Lessons Learned.doc

And more...
07
Digital Transformation Project Slides
What drives Digital Transformation? What are the benefits of Digital Transformation? What Industry Sectors are impacted? What Digital Technologies are there? What are the components of a Digital Business? How do you start your Digital Transformation journey? What hurdles are there to Digital Transformation? Who should lead Digital Transformation? Is it all about Customer Experience? How do you assess Digital Readiness? What Digital Transformation Frameworks are there? What do you need to Change? Who needs to be involved? How do you manage your talent? What are the reasons why Digital Transformations Fail? Examples of successful and failed Digital Transformation. With our presentations you can develop your digital strategies for digital transformation and present them clearly.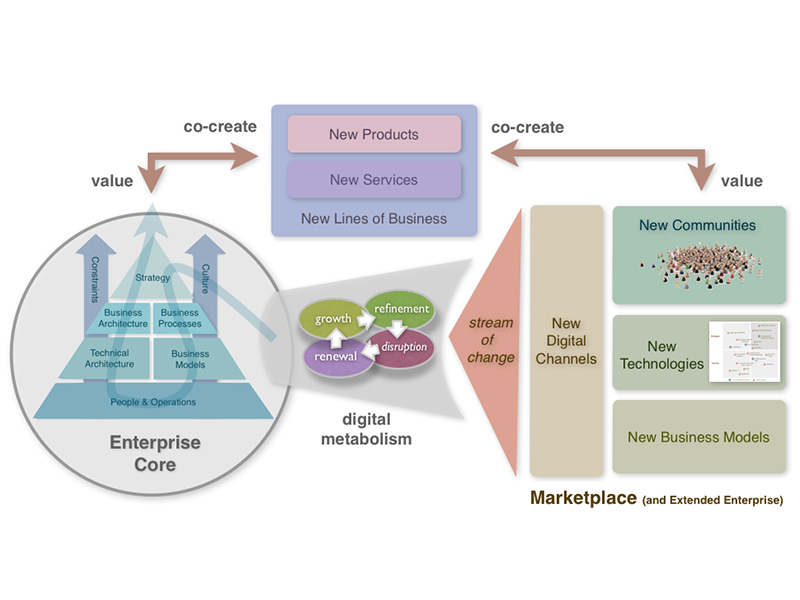 DX01-Assessing Your Business Capabilities.pptx
DX02-Defining Business Requirements.pptx
DX03-Developing Customer Journey.pptx
DX04-Developing Products and Determining Roles and Responsibilities.pptx
DX05-Developing the Enterprise Business Architecture Map.pptx
DX06-Enterprise Architecture Framework and Process Models.pptx
DX07-Improving Processes.pptx
DX08-Managing Compliance and Risks.pptx
DX09-Managing Your Architecture Evolution.pptx
DX10-Merging With Companies or Acquiring Portfolios.pptx
DX11-Planning Digital Transformation.pptx
DX12-Planning Organizations.pptx
DX13-Robotic Process Automation (RPA).pptx
DX14-Tracking Digital Transformation.pptx
DX15-Plan Your Digital Transformation on a Page.pptx
DX16-Digital Transformation Frameworks.pptx
DX17-Digital Transformation Which KPIs.pptx
DX18-Digital Transformation And Enterprise Architecture.pptx
08
Guide & Case Study
These documents is a product of the "Digitalisation project". Its aim is to develop a tool that facilitates the processes of digital transformation in small and medium-sized enterprises. The main objective of this intellectual output is to develop a process model for the digital transformation.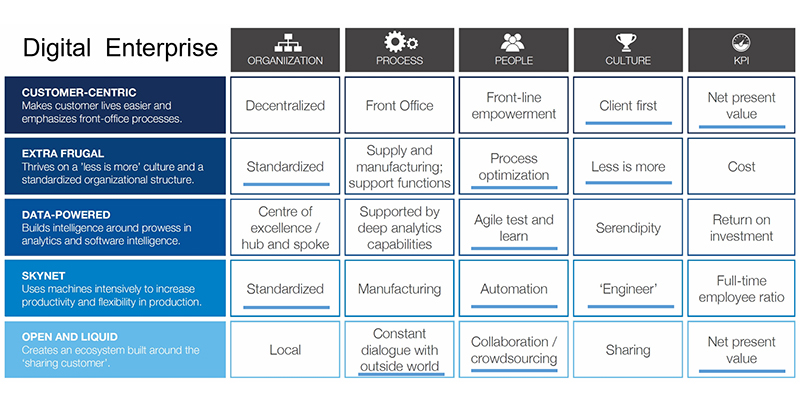 DX01-Digital Transformation Toolkits Guide.doc

DX02-A Case Study of A Large Retailer.doc

DX03-A Case Study Digital Government Strategy.doc

DX04-A Case Study of Digital Transformation Process.doc

DX05-A Case Study Digital Transformation in Goverment.doc

DX06-A Case Study IT Strategic Plan And Digital Transformation.pdf

DX07-A Case Study Digital Transformation Focus On Organizational Culture.doc